Lawyer seeks justification for COVID mandates that trample rights
"No Canadian government has ever sought to publish the confidential personal health information of a group of persons, with respect to communicable diseases …"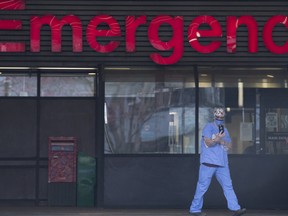 Article content
The continuation of COVID public health orders cannot be defended by claiming a health emergency continues to exist given the relaxation of mandates and the return to normalcy, insists respected Vancouver lawyer Peter Gall.
Article content
In the last month, he has filed three petitions on behalf of health care professionals in BC Supreme Court and with the privacy commissioner demanding the province and the public health officer justify continuing orders that trample the rights of nurses and doctors.
"We have asked the public health office repeatedly to discuss with our clients any contrary scientific or other evidence they may have to justify the continuation of the vaccination mandate or the public disclosure of the private medical information of health care professionals, but up until now, the government has declined to do so," Gall said.
He added the orders were premised on "an immediate and significant risk to public health throughout a region or the province" that no longer exists "given the reduced severity of the virus and changing government responses to it."
Article content
"I know the government doesn't want to get into exceptions but you have a forensic psychiatrist who did all his work virtually," Gall noted. "What risk was he posing?"
On June 20, the federal government lifted COVID-19 vaccine requirements for federal public servants and transportation workers.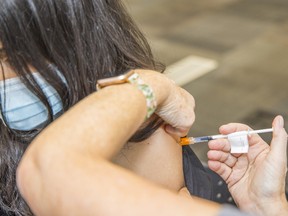 "Put simply, it can no longer be said that SARS-CoV-2 poses either an immediate or a significant threat to public health throughout a region or the province, and as such there cannot currently be said to be an emergency as required by the Public Health Act," said the lawyer who also acted for private clinics in the medicare constitutional trial.
In his opinion, it is unreasonable to continue the vaccine mandates against doctors, nurses and health care workers in hospitals and community facilities in which many were — as a result of the orders — laid off or terminated.
Article content
"That is because we now know that being vaccinated neither prevents nor even limits the risk of contracting COVID or transmitting the virus," Gall maintained.
"Further, there is absolutely no evidence of COVID being spread to patients by health care professionals, which is not surprising given the strict precautions that these health care professionals take to prevent the transmission of COVID."
Order in place forcing BC health care professionals to disclose COVID-19 vaccination status

COVID-19: Province drops mask rule for most public places
The applications basically challenge the authority and even the necessity of maintaining such draconian measures that are justifiable in dealing only with serious health hazards.
Article content
"Our clients don't take these steps lightly, given they are fully supportive of the need for our public health officials to be proactive and vigilant in the protection of the health of the residents of this province," Gall said.
"However, they believe that it is necessary at this time to bring this legal scrutiny to the strict measures that are not justified at this stage of the virus, and which have had a seriously detrimental effect on the lives and livelihoods of doctors and nurses who have legitimate personal reasons for choosing not to be vaccinated."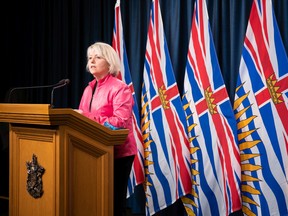 Gall filed petitions in BC Supreme Court on behalf of five health care professionals, including York Hsian, David William Morgan, Hilary Vandergugten and Peternella Hoogerbrug, who additionally alleged the orders violate constitutional guarantees of religious freedom.
Article content
"To justify such an extreme measure, which forces health-care professionals to either submit to health-care treatment against their will or be denied the ability to practice their chosen professions in hospitals and designated community settings, there must be a clear and demonstrated connection between the order and the transmission of the SARS-CoV2 virus," stated the petition to lift the Nov. 18 decrees. "But in this case, there is none."
A nurse practitioner, Hoogerbrug professes sincere and long-standing beliefs as a member of the Reformed Congregation in North America, which, along with its predecessor denominations, has opposed vaccinations for more than 200 years.
The complaint to the privacy commissioner concerned the March 7 order authorizing the public disclosure of vaccination status and "highly sensitive personal health information" by the medical regulatory colleges and the government.
Article content
"Indeed, to the complainants' knowledge, no Canadian government has ever sought to publish the confidential personal health information of a group of persons, with respect to communicable diseases, including the SARS-CoV-2 virus. Such a profound violation of privacy is simply not permitted in our society," that petition asserted.
Gall said the current evidence indicates COVID no longer represents a "significant, ominous, and nebulous threat to public health," and extreme measures are no longer justified.
The provincial health officer, Dr. Bonnie Henry, stated in a January news conference, "we have to change our way of thinking," noting that the government has begun to adopt measures similar to "how we manage other respiratory illnesses" like the cold and flu.
A government spokesperson said Henry was "away — so we haven't been able to connect with her regarding this request … there is nothing we can provide at this time, and it is not likely there will be any comment regarding this."
---
More news, fewer ads: Our in-depth journalism is possible thanks to the support of our subscribers. For just $3.50 per week, you can get unlimited, ad-lite access to The Vancouver Sun, The Province, National Post and 13 other Canadian news sites. Support us by subscribing today: The Vancouver Sun | The Province.

Related Posts