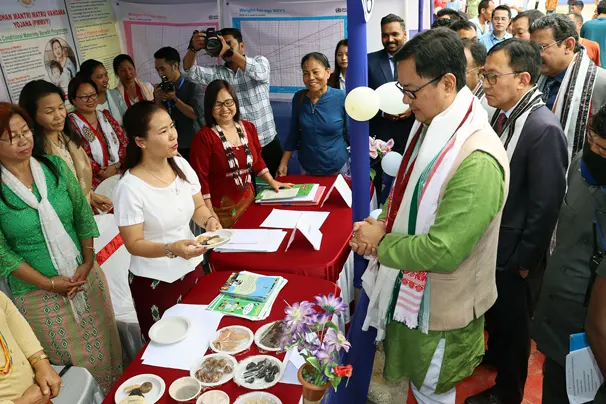 Ensure schemes' benefits reach poor and needy: Rijiju
ITANAGAR, 23 Apr: Union Law Minister Kiren Rijiju asked the implementing agencies to ensure that the benefits of various developmental packages of the government reach the poor and the needy.
Rijiju said that the central government is providing numerous people-centric and development packages to the state government in all sectors. "But late submission of utilisation certificates due to various reasons is posing a stumbling block to granting additional fund by the central government," the minister said.
Rijiju was addressing the people after inaugurating a 'mega legal services camp' and a 'Pro Bono Club' at the Jarbom Gamlin Law College (JGLC) in Jote on Sunday.
The minister said that the people, especially the targeted groups, should be made aware of the various initiatives taken by the government for their welfare. He said also that free legal services should be provided to people who cannot afford the fees.
He discussed with the law students the importance of pro bono culture in providing equal access to justice in the country.
Replying to a memorandum submitted by the college fraternity, pertaining to infrastructure development, boundary walls, and requirement of more land for the college, the minister assured to look into the needs "after proposals are submitted by the state government to the Centre."
Law & justice adviser Kento Jini highlighted the initiatives of the government to empower the GB institutions, and exhorted the GBs to deliver justice without fear or favour.
Gauhati High Court judges Suman Shyam and Nani Tagia also spoke.
The camp was followed by a public rally, during which the minister urged the people, especially the youths, to take advantage of such camps.
The event was memorialised with laying of the foundation stone for a new court building of the JMFC first class in Namsai, inauguration of a court building for the district & sessions judge in Khonsa, and inauguration of a court building for the chief judicial magistrate in Bomdila by the minister.
The event saw the participation of people from different villages in Balijan subdivision and other parts of Papum Pare district to avail various services provided by different departments that had set up stalls at the camp.
Doimukh MLA Tana Hali Tara, Justice Department Joint Director Niraj Kr Gayagi, and NLSA Director Yajuvender Singh also attended the camp.
The Arunachal Pradesh State Legal Services Authority organised the camp in collaboration the the state's law & justice department, the Gauhati High Court Legal Services Authority, the Itanagar permanent bench of the high court, the JGLC, and the Papum Pare district administration. (With DIPR inputs)
Related Posts