The Welsh government will tell Westminster to increase civil legal aid funding, the general counsel has revealed, following a visit to the only law center in Wales.
Mick Antoniw, general counsel and minister for the constitution, and Jane Hutt, minister for social justice, visited the Speakeasy Law Center in Cardiff this week.
In an announcement today, Antoniw said: 'The Speakeasy Law Center is providing a valuable service. I welcome the chance to hear how it is helping people. High-quality legal advice can prevent issues from spiraling and becoming more serious, and I encourage people across Wales to take advantage of the support available to them if they need it.'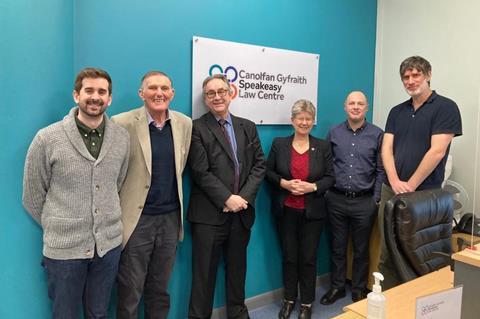 Today's announcement states that despite many areas of justice not being devolved, the Welsh Government's single advice fund, introduced in January 2020, supports advice services across Wales with around £11m a year, helping to support services like Speakeasy Law Centre.
So far, the fund has supported 144,000 people to deal with more than 660,000 social welfare problems, helped people to claim £83m of additional income, and write off debts worth more than £23m, the announcement states.
Antoniw said: 'Information and advice services are even more important because of the sweeping real-terms cuts to legal aid over the last decade, which is putting access to advice out of reach for more and more people and increasing the burden on volunteers. We will be stressing the importance of information and specialist advice services, and the need to increase levels of funding, in the upcoming UK government review of civil legal aid.'
Speakeasy Law Center was set up in 1992 and is currently the only law center in Wales. However, work is well underway to set up a law center in Llandudno Junction, North Wales.
Related Posts