'I was talking to them to remove the gate because that composting facility is for the public. And they didn't want to,' she explains the video showing her berating the guards
MANILA, Philippines – Senator Cynthia Villar has this to say about the viral video showing her berating security guards at BF Resort Village (BFRV) in Las Piñas: "That's the price you pay for being a public official."
On Wednesday, April 26, Villar faced the media to answer questions about the video, where the senator can be seen repeatedly telling the guard to remove the gate at the composting facility of the village.
"I was talking to them to remove the gate because that composting facility is for the public. And they didn't want to, and they were arguing with me. They have plenty of security guards, and I was alone," Villar told reporters.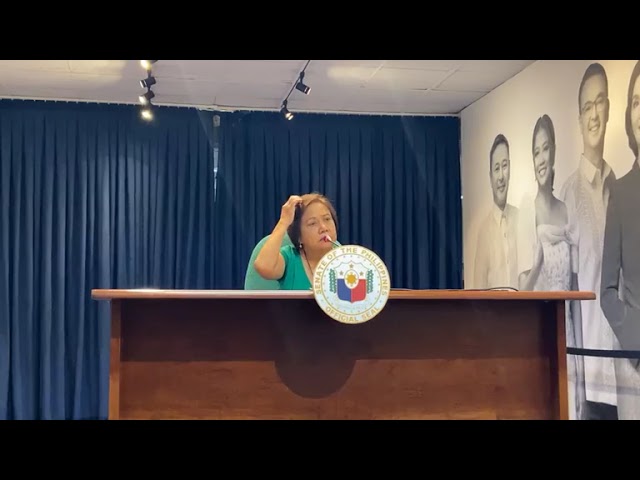 Asked if she felt there was a malicious intent in posting the video, Villar said, "yes," but declined to give further comments since she was in consultation with her lawyers for possible legal action.
The senator said the video that had gone viral was spliced and didn't give the whole picture of why she was lashing out at the security guards there.
"We were there for a long time. We were waiting and sitting," she said.
Villar also addressed the apparent homophobic slurs in the viral video, although, she didn't apologize to the LGBTQ+ community who got offended by her remarks.
In the viral video, the president of the BFRV Homeowners Association can be heard pleading with the senator not to hurt the security guards.
"Ang laki-laki niya eh. Alangan naman saktan ko siya (He is so big. I couldn't just hurt him). There's something wrong with him. He is a security guard. He has a gun," Villar said.
"Why, am I capable of hurting him? What is he gay?" Villar said in Filipino.
The senator believes the homeowners' head asked deliberately made such plea with the intention of baiting her into saying something like that. She said one of the officers of the BFRV Homeowners Association was filming her.
Even before the incident, Villar said that she already had a disagreement with the BFRV Homeowners Association because they didn't allow other Las Piñas residents to pass through the roads of BFRV even if they had "friendship stickers." A local court has issued a temporary restraining order against the village rule.
"I filed a case before the Regional Trial Court-Las Piñas because of that prohibition of BFRV to accept our friendship sticker to pass through the roads of BF Resort Village, and that's against a local legislation, so I filed a case so we could still use the friendship stickers. Friendship stickers are free for Las Piñeros," she said. – Rappler.com
Related Posts