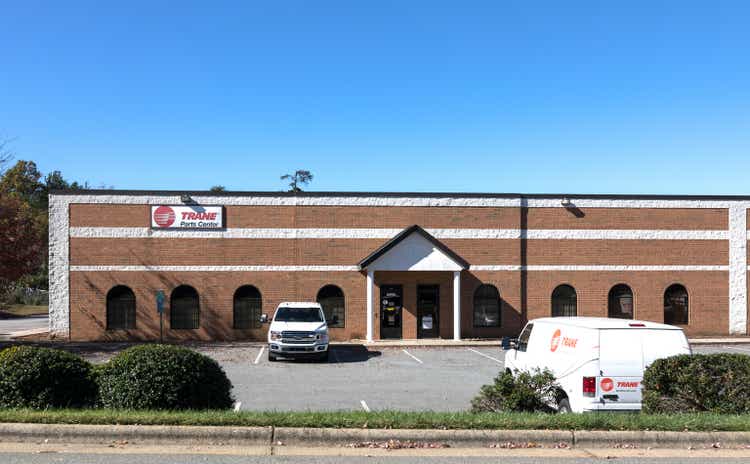 Long Industrials. It is one of BofA's top themes this year. But that call is not off to a ringing start in 2023. The SPDR Industrial Sector ETF (XLI) is up just 4.5% total return compared to a 7.3% rise in the S&P 500 ETF (SPY). This year has been a return to the growth style while the defensive sectors have lagged.
One small name in the sector features impressive EPS growth and reported a strong quarter this week. Is there a Garp case to be made for Trane (NYSE:TT)? Let's see if it has more room to run.
BofA's Top 10 Trades For 2023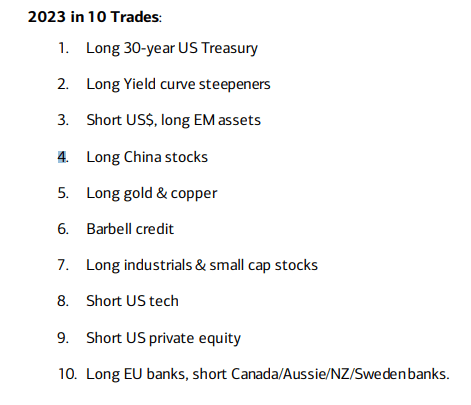 YTD Sector Returns: Industrial Lag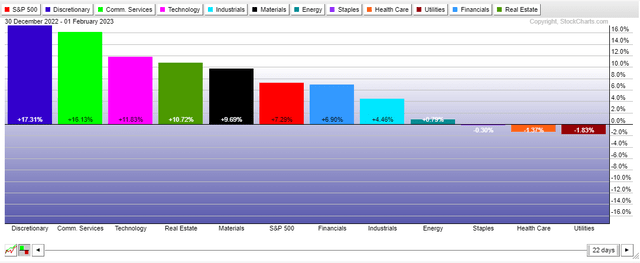 According to Bank of America Global Research, Trane Technologies is a global, diversified industrial manufacturer of refrigeration and commercial/residential HVAC equipment. Products include well-recognized brands such as: Trane, Thermo King, and American Standard.
The Dublin-based $41.3 billion market cap Building Products industry company within the Industrials sector trades at a high 25.8 trailing 12-month GAAP price-to-earnings ratio and pays a small 1.5% dividend yield, according to The Wall StreetJournal.
On Thursday morning this week, Trane reported Q4 2022 earnings results that were ahead of analysts' expectations. Operating profits were $1.82, an $0.18 beat, while revenue also topped forecasts. The firm continues to benefit from commercial construction cycles and broad infrastructure spending, but those tailwinds could be waning amid a weak housing market and roughly 40% of work being done from home now. Raw material inflation retreating helps the firm while easing growth in residential HVAC could be a risk this year, per BofA.
On valuation, analysts at BofA see earnings having risen sharply in 2022, building on a strong 36.5% EPS growth rate in 2021. Per-share profits are seen as advancing further in 2023 and 2024 at solid, though moderated, clips. The Bloomberg consensus forecast is about in-line with what BofA projects. Dividends, meanwhile, are expected to be rather sharp on the rise, too. So there's something for all investors to like here.
As a result, Trane's GAAP and operating P/Es should retreat, but after a strong recent rally, the valuation is not too cheap. For a stock like this, I like to review the forward non-GAAP PEG ratio, and that stands at 2.26 per Seeking Alpha, a 37% premium to its sector median. Also, TT's price-to-sales ratio is 2.6 – above its 5-year average of 2.2. With a high EV/EBITDA ratio and decent free cash flow yield, I see the stock as simply fairly valued here.
Trane: Earnings, Valuation, Free Cash Flow Forecasts

Looking ahead, the corporate event calendar is light on the volatility of catalysts according to data from Wall Street Horizon. The next earnings date is projected for Wednesday, May 3 before the market opens.
Corporate Event Risk Calendar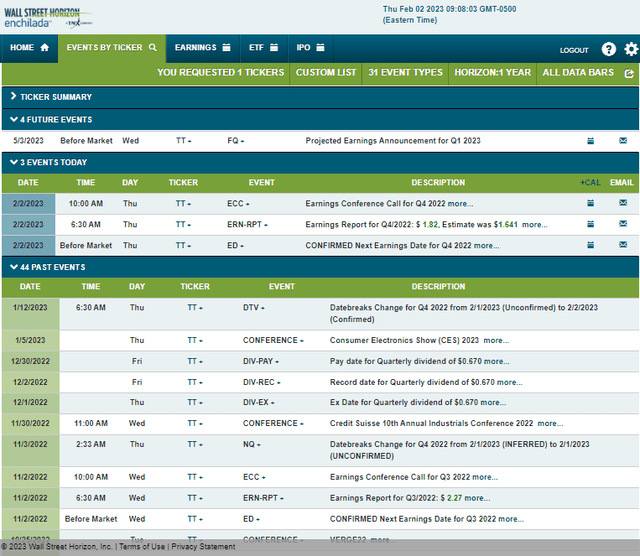 The Options Angle
Digging into the earnings report, the $1.82 figure was a strong 34% increase from $1.36 of per-share profits earned in the same quarter a year ago, according to data from Option Research & Technology Services (ORATS). It was the fifth consecutive quarter of better-than-expected earnings and the 10th beat of the last 11 reports. Looking ahead, implied volatility is just 29%, so this is not a volatile name despite its high EPS growth rate. The next dividend is expected to be paid on March 3.
TT: Low IV On This Household Name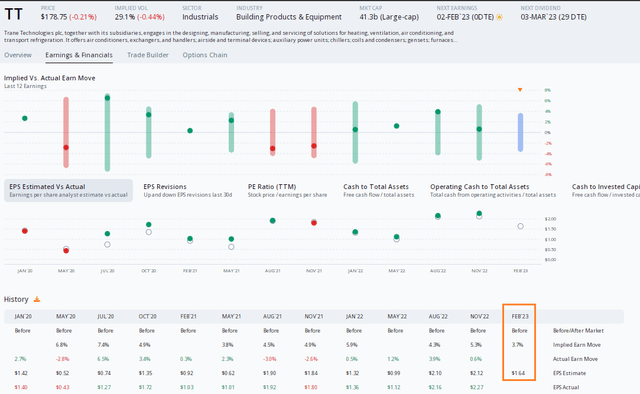 The Technical Take
Back in Q4, TT rose above the key $165 to $170 zone. It then held that area on a pair of pullbacks in December and earlier this year. The recent earnings report lifted shares again above $180, and it may have its eyes set on the highs just above $200. Notice in the chart below that the 200-day moving average has turned positive, but there is some modest bearish RSI divergence in momentum compared to prices being steady to slightly higher in recent rallies since November.
Overall, a long swing trade here, targeting $200 with a stop under $160 makes sense.
TT: Shares Trending Higher, Eyeing > $200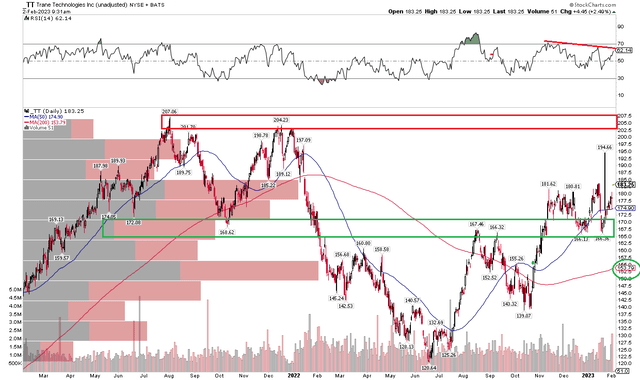 The Bottom Line
After reporting a strong quarter, shares are likely near fair value when assessing its PEG ratio and P/S. Technicals favor the bulls, though. I like the stock as a Garp play, but it's not quite strong enough for a buy rating. I am a hold on for now but hope to revisit it later this year to see how the forward valuations look.
Related Posts